The interpretations are characterized by a very fine and variable touch culture and reveal an understanding of the music as found in Gould and Gulda. There is someone playing Beethoven who has complete mastery of the music and the piano. With all spontaneity, nothing is left to chance, but comes from a precise consideration and a freedom granted to oneself.

Remy Franck, Pizzicato.lu Découvrir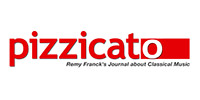 ---

.. nur wenige haben in hoher Formvollendung all diese ambivalenten Charakteristiken als Zuspitzung menschlicher Abgründe, Ironien und Verschmitztheiten so unverwechselbar in Töne zu setzen vermocht wie jetzt Marlo Thinnes mit diesen sieben Sonaten.

Die spannendsten und mitreißendsten Beethovensonaten seit langem!
Online Merker, Österreich Découvrir